The top Nigerian operator Bet9ja has many features under its technology and one of our favorite is the Book a Bet function. Depending on the device/version you use, the process is quite the same and super easy, let's have a look below.
How to book a bet via Bet9ja Desktop version
Step 1: You must be logged out of your Bet9ja account to Book a bet. Go in the Sport section and fill in your bet prediction. Once the payslip on the right column is the one you want to bet on, add the amount and click the green button BET and a popup will appear.
Step 2: Follow the instructions you see in this popup. You have 3 options here:

REGISTER NOW – probably the easiest solution if you want to bet your own and online (you will get also a 100% welcome bonus)
PRINT – after you have printed, go to the nearest betting shop to validate your bet. The will ask you for the Booking Number (that in green below)
SEND VIA EMAIL – all the details of this Booking Number will be sent to the recipient of the email.
*Please Note: Betting odds may change and bets will be placed using the odds that are correct when payment is made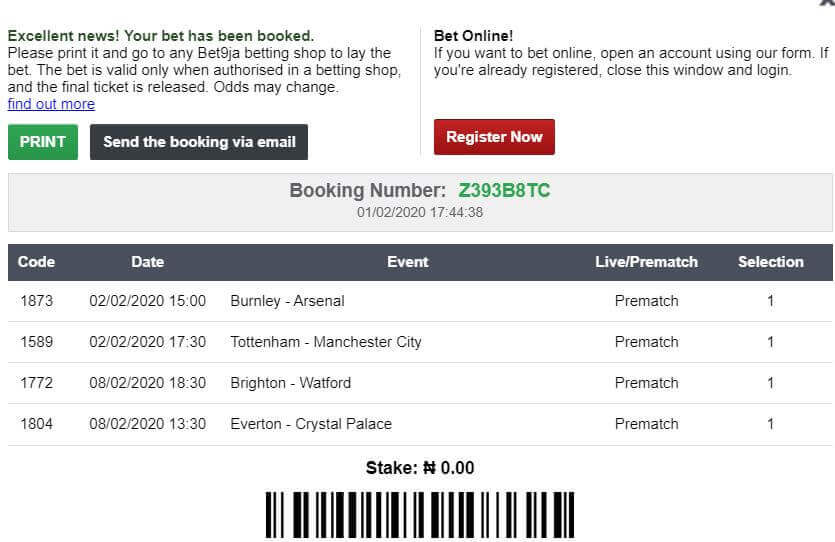 How to book a bet via Bet9ja Mobile version
Step 1: Go to www.bet9ja.com
Step 2: DO NOT log into your account (if you already have one)
Step 3: Make the selections you want to place a bet on
Step 4: Click 'Book Bet' the green button at the end of this page as you can see in the image below:
Step 5: you will receive your Booking Number which will identify this bet.
Step 6 (optional): you can share your Betslip via WhatsApp function, to share with friends or with the betshop owner.
Step 10: Visit and Bet9ja shop and show your booked bet confirmation
Step 12: Make the payment and the bet will be place by the cashier
*Please Note: Betting odds may change and bets will be placed using the odds that are correct when payment is made
How to book a bet via the Bet9ja Mobile Lite version
Step 1: Go to www.bet9ja.com
Step 2: DO NOT log into your account (if you already have one)
Step 3: Make the selections you want to place a bet on
Step 4: Click on the 'Bet' button
Step 5: Copy the booking number
Step 6: Click the 'Book a Bet' icon from the top menu.
Step 7: Paste the booking number
Step 8: Click 'Book Bet'
Step 9: Enter your email address and click 'Send' or print
Step 10: Visit and Bet9ja shop
Step 11: Show your booked bet confirmation (print out or email)
Step 12: Make the payment and the bet will be place by the cashier
*Please Note: Betting odds may change and bets will be placed using the odds that are correct when payment is made
How to book a bet via the Bet9ja Old Mobile version
Step 1: Open www.bet9ja.com with your old device and you will reach the bet9ja old mobile version
Step 2: DO NOT log into your account (if you already have one)
Step 3: Make the selections you want to place a bet on
Step 4: Add the amount and click on the 'Bet' green button
Step 5: a new page will appear and you have now to copy the booking number
Step 6: Visit a Bet9ja shop and show this booking number in order to validate the bet
Step 7: Make the payment on bet9ja deposit page and the bet will be place by the cashier
*Please Note: Betting odds may change and bets will be placed using the odds that are correct when payment is made