Champions League 23/24 Betting Tips
Here at Bet9jaMobile Review, you will find our champions league tips on every game of the UEFA Champions League 23/24. This year many top clubs have improved the level of their squads and we are sure to see the very best teams heading to the final which will be played at the Wembley Stadium on 1 June 2024 in London.
Road to London at "Wembley Stadium" Summary:
UCL Tips and Predictions
UEFA Champions League – Predictions & Tips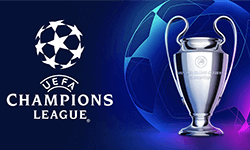 Champions League 2023/24
Welcome to the electrifying world of football, where the most prestigious club competition on the planet, the UEFA Champions League, is set to captivate the globe once again in the 2023-2024 season. As fans and enthusiasts from all corners of the world eagerly await the unfolding drama, let's rewind and remember the thrills of the previous season.
In the 2022-2023 season, it was an unforgettable battle for glory between Inter Milan & Manchester City, with titans of the footballing world clashing on the grandest stage. In a fiercely contested final, two giants of the game clashed, and it was the Manchester City of Pep Guardiola, who emerged victorious, raising the coveted trophy high in the Istanbul stadium during an incredible night. The echoes of their triumph continue to resonate as they defend their title, while challengers from across Europe aim to dethrone them.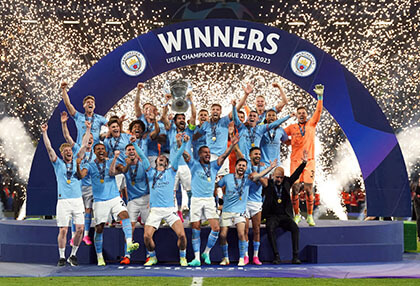 The UEFA Champions League is the epitome of football excellence, where the finest clubs from the continent showcase their skills, strategy, and determination to etch their names in history. From dramatic comebacks to heart-stopping penalty shootouts, this competition is a constant source of unforgettable moments, and the 2023-2024 season promises to be no different. So fasten your seatbelts, because as the road to glory beckons, there's no telling which team will rise to the occasion and etch their name into the annals of football history.
The road to The Wembley Stadium
The final design features local elements from London combined with iconic aspects of the competition.
The brand identity for the 2024 UEFA Champions League final at Wembley Stadium is officially unveiled during the season's group stage draw at the Grimaldi Forum in Monaco. While the design changes every year to show distinctive elements of each host city, the trophy remains at the centre of the visual identity, ensuring consistency between finals and recognisability over time.
This year's design was inspired by the vibrancy and culturally mixed nature of London. It reflects the energy and constant movement of the city with shapes hinting at the iconic buildings and the urban vastness whilst contrasting with the green spaces that can be found everywhere in London and that are central to so many people's lives. Wembley Stadium's iconic arch features prominently.
Created by London-based artist Supermundane, his signature geometric drawings and distinctive use of colours, lines and optical effects have become an instantly recognisable feature of the contemporary design landscape, and his playful and vibrant style helped create a unique visual to aptly represent the ultimate sporting event.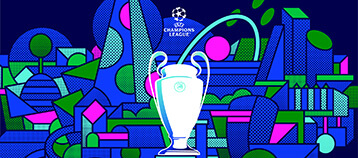 The group stage of the Champions League 2023/24 began on the 13h June 2023 with the preliminary round tournaments. As usual the qualification for the Champions League has been determined by the league positions in countries around Europe in the previous season.
The 2024 UEFA Champions League final will take place in London at Wembley Stadium on 1 June 2024.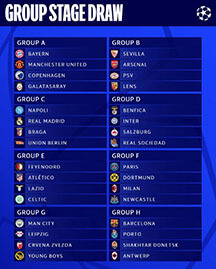 Some countries such as Spain, England, Germany and Italy has the top ranking and so we see the top four in their league qualify. Other smaller nations (78 to be precise) just have their league champions qualify to take part.
Odds for the 2023/24 Champions League Winner
Dates for your Diary
Phase
Draw date
Game dates
Preliminary Round
13 June 2023
27-30 June 2023
First qualifying round
20 June 2023
11-12, 18-19 July 2023
Second qualifying round
21 June 2023
25-26 July 2023, 1-2 August 2023
Third qualifying round
24 July 2023
8-9, 15-19 August 2023
Play-off
7 August 2023
22-23, 29-30 August 2023
Group stage
31 August 2023
19 September 2023 & 13 December 2023
Last 16
18 December 2023

13-14 & 20-21 February 2024

5-6 & 12-13 March 2024

Quarter-final
15 March 2024
9-10 April & 16-17 April 2024
Semi-final
15 March 2024
30-1 May & 7-8 May 2024
Final
15 March 2024
1 June 2024
The Contenders
Real Madrid and Manchester City are the club that start as favorite, after an unforgettable UCL tournaments last year 2023 beating most of the other biggest rivals.
The inter Milan squad after participating to the final and missing the trophy last year, this year they will be more competitive. We predict their arrival at least in the best 4 (semi-finals).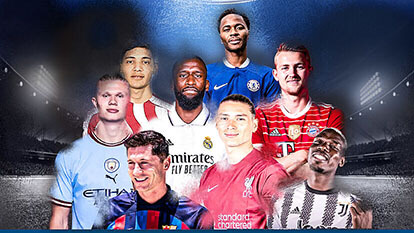 We are all looking forward to see again the two Spanish Real Madrid and Barcelona to be very competitive again. Don't under-estimate the young and inexpert Italian AC Milan that is super competitive looking what they did in their national league.
Bet9jaMobile – Our Final Prediction
Good luck to all our community but, well, our prediction is: Real Madrid 3.40
Champions League Groups – Final Tables
In the eight groups stages we have some big matches for our champions league tips and predictions: in group A we have the last finalist Liverpool which should go ahead with no problem, group B the favourite would be the Atletico Madrid, group C we will see the most competitive group with 3 super big teams Bayern, Barcelona and Inter, group D the Tottenham of Antonio Conte is the favourite, group E has an interesting Milan VS Chelsea, Group F seems to be an easy group for the Real Madrid, group G all/in for Manchester City, and last group H with 2 big contenders PSG and Juventus .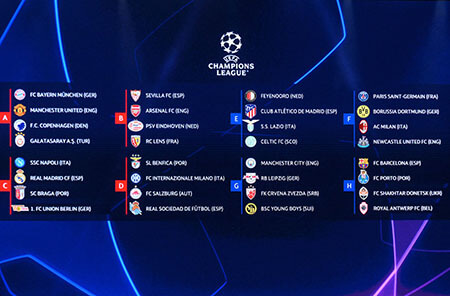 Group A: Bayern Munich, Galatasaray, Copenaghen, Manchester United
Group B: Lens, Arsenal, Sevilla, PSV Eindhoven
Group C: Real Madrid, Napoli, Braga, Union Berlin
Group D: Real Sociedad, Inter Milan, Red Bull Salzburg
Group E: Atletico Madrid, Lazio, Feyenoord, Celtic
Group F: Newcastle United, PSG, Milan, Borussia Dortmund
Group G: Manchester City, RB Leipzig, Young Boys, Red Star Belgrade
Group H: Barcelona, Porto, Shakhtar Donetsk, Antwerp
Champions League Groups – Final Tables
There are so many bets that you can place on the Champions League 2023. There are of course many contenders and difficult to predict with many strong teams which can make it through the end. Maybe an English vs Spanish final? Or what about if we have Itern Milan-Man City again? Let's follow the tournament with a huge interest.
Round of 16: Leg1 – 13-21st February & Leg 2 – 5-13th March 2024
| | | | |
| --- | --- | --- | --- |
| TBD | – | – | TBD |
| TBD | – | – | TBD |
| TBD | – | – | TBD |
| TBD | – | – | TBD |
| TBD | – | – | TBD |
| TBD | – | – | TBD |
| TBD | – | – | TBD |
| TBD | – | – | TBD |
Round of 16 (Leg1) & Leg 2
Quarter Finals: Leg 1 – 9-10th April & Leg 2 16-17th April 2024
| | | | |
| --- | --- | --- | --- |
| TBD | – | – | TBD |
| TBD | – | – | TBD |
| TBD | – | – | TBD |
| TBD | – | – | TBD |
Quarter Finals (Leg 1) & Leg 2
Semi Finals – 30th April-1st May & 7-8th May 2024
Champions League Final 2024 – 1st June 2024
Champions League Final 2022 – 28th May 2022
Champions League 2024 Winner: TBD