FIFA World Cup 2022 Qatar Betting Tips
Here at Bet9jaMobile Review, you will find our world cup tips on every game of the FIFA World Cup Qatar 2022. We are all curios to see how the Arabic venue will welcome the super National teams during their paths to the Lusail Iconic Stadium.
Road to the "Lusail Iconic Stadium" Summary:
World Cup 2022 Qatar Tips and Predictions
World Cup 2022 Qatar – Predictions & Tips
Overview World Cup Qatar 22
The FIFA World Cup Qatar 2022™ will be played from 21 November to 18 December in Qatar. It will be the 22nd edition of the competition, and the first played in the Arab world. The draw for the World Cup group phase took place in Doha, Qatar, on April 1 2022 to set the stage for the tournament. The final three qualification places were filled in June, with Wales, Australia and Costa Rica completing the 32-team line-up.
World Cup Qatar 2022 stadiums
The 64 matches of the tournament will take place across eight venues – Al Bayt Stadium, Khalifa International Stadium, Al Thumama Stadium, Ahmad Bin Ali Stadium, Lusail Stadium, Stadium 974, Education City Stadium and Al Janoub Stadium.
Past World Cup results
Qatar 2022 will be the sixth World Cup this century, click below for full match replays of the finals.
2018 champions: France
2014 champions: Germany
2010 champions: Spain
2006 champions: Italy
2002 champions: Brazil
There were 16 World Cups which took place in the 20th century:
1998 champions: France
1994 champions: Brazil
1990 champions: Germany FR
1986 champions: Argentina
1982 champions: Italy
1978 champions: Argentina
1974 champions: Germany FR
1970 champions: Brazil
1966 champions: England
1962 champions: Brazil
1958 champions: Brazil
1954 champions: Germany FR
1950 champions: Uruguay
1938 champions: Italy
1934 champions: Italy
1930 champions: Uruguay
Most World Cup titles
Brazil (5)
Germany (4)
Italy (4)
Argentina (2)
France (2)
Uruguay (2)
England (1)
Spain (1)
World Cup: next edition
Canada, Mexico and the USA will host the 2026 tournament.
Qatar celebrates each qualified team's achievement by raising their flags next to the Official Countdown Clock on Doha's Corniche. Another opportunity for fans to capture a fantastic FIFA World Cup 2022 photo!
Official SoundTrack – Qatar 2022 – Hayya Hayya
The Road to Lusail Iconic Stadium 2022
The group stage of the World Cup 22 began on the 21 November 2022 with the preliminary round tournaments and the final will take place the 18th December at the Lusail Iconic Stadium, Qatar.
The participants are divided into continents as per below list:
AFC (6): Australia, Iran, Japan, Qatar (hosts), Saudi Arabia, South Korea
CAF (5): Cameroon, Ghana, Morocco, Senegal, Tunisia
CONCACAF (4): Canada, Costa Rica, Mexico, United States
CONMEBOL (4): Argentina, Brazil, Ecuador, Uruguay
UEFA (13): Belgium, Croatia, Denmark, England, France, Germany, Netherlands, Poland, Portugal, Serbia, Spain, Switzerland, Wales
Odds for the 2022 World Cup Qatar
Dates for your Diary
| Phase | Game dates |
| --- | --- |
| Group stage | 21-30 November 2022 & 1-2 December 2022 |
| Last 16 | 3-4-5-6 December 2022 |
| Quarter-finals | 9-10 December 2022 |
| Semi-finals | 13-14 December 2022 |
| Finals | 17-18 December 2022 |
The Contenders
France is the winner of the previous World Cup edition in Russia 2018 (France – Croatia 4-2) and the team that every other squad wants to beat. With the Euro Final team England that follow closely – unfortunately we don't see Italy (the winner of the latest Europian Cup – Euro 2020) which missed this important appointment in favor of Portugal of soccer star Cristiano Ronaldo. From the other continent we have Brazil which will start always as the favorite to win the trophy together with another super squad of Argentina.
Bet9jaMobile – Our Final Prediction
Good luck to all our community but, well, our prediction is: ARGENTINA 8.00
World Cup 2022 – Final Tables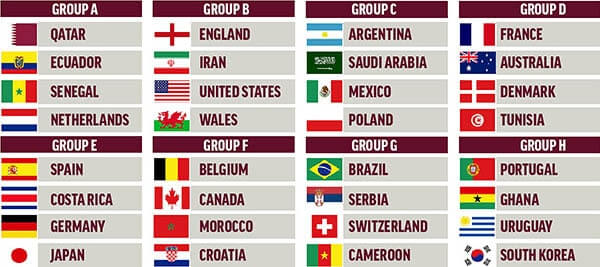 Matches scheduled between: 21st November –> 02nd December
Group A: Qatar, Ecuador, Senegal, Netherlands
Group B: England, Iran, United States, Wales
Group C: Argentina, Saudi Arabia, Mexico, Poland
Group D: France, Australia, Denmark, Tunisia
Group E: Spain, Costa Rica, Germany, Japan
Group F: Belgium, Canada, Morocco, Croatia
Group G: Brazil, Serbia, Switzerland, Cameroon
Group H: Portugal, Ghana, Uruguay, South Korea
World Cup 2022 Groups – Final Tables
Round of 16 (Leg1) & Leg 2 – 03-06th December
| | | | |
| --- | --- | --- | --- |
| Netherlands | 3 | 1 | USA |
| Argentina | 2 | 1 | Australia |
| Japan | 1 (1) | 1 (3) | Croatia |
| Brazil | 4 | 1 | South Korea |
| France | 3 | 1 | Poland |
| England | 3 | 0 | Senegal |
| Morocco | 0 (3) | 0 (0) | Spain |
| Portugal | 6 | 1 | Switzerland |
Round of 16 (Leg1) & Leg 2
Quarter Finals (Leg 1) & Leg 2 – 09-10th December
| | | | |
| --- | --- | --- | --- |
| Netherlands | 2 (3) | 2 (4) | Argentina |
| Croatia | 1 (4) | 1 (2) | Brazil |
| England | 1 | 2 | France |
| Morocco | 1 | 0 | Portugal |
Quarter Finals (Leg 1) & Leg 2
Semi Finals – 13-14th December
| | | | |
| --- | --- | --- | --- |
| Argentina | 3 | 0 | Croatia |
| France | 2 | 0 | Morocco |
Semi Finals
World Cup Final 2022 – 18th December
| | | | |
| --- | --- | --- | --- |
| Argentina | 3 (4) | 3 (2) | France |
Qatar World Cup Final 2022 – 18th Dec 2022
World Cup 2022 Winner: ARGENTINA 🥳️